November
30
Tags
POV Shorts Award Winning Documentary Shorts Series Continues Season 4 Tomorrow: Monday, November 29 With Episode 3
POV Shorts Have Received Academy Award & Emmy Nominations

Broadcast & Streaming Debut of 4th Season on PBS

Upcoming Films Include :
Seahorse, Águilas, Le Frère, and Team Meryland

New York, N.Y. – POV Shorts, the newest series from American Documentary, continues its fourth season with Episode 3 tomorrow: Monday, November 29, 2021 on PBS and streaming online at POV.org. Additional episodes will debut on Mondays in December and January.

With new short nonfiction films packed into seven unique episodes, POV Shorts continues to program innovative and diverse stories that capture longing for community and identity and difficult reconciliations with family history. In just its 3rd season, POV Shorts was named the 'Best Short Form Series' at the 36th annual IDA Documentary Awards. And the series is nominated in the category again this year for the 37th annual IDA Documentary Awards.

"This is a deeply-affecting group of films, particularly given the challenges of the past year," said POV Shorts producer Opal H. Bennett. "We see reunion and redemption, grace and compassion, and displays of inimitable human spirit. Our fourth season aims to bring you stories that will linger long after their screening."

The home for acclaimed documentary shorts, past award winners and nominees from POV Shorts include A Night at the Garden, which received an Academy Award nomination, Earthrise, from POV Shorts' inaugural season, and last season's The Love Bugs, the recent winner of the News & Documentary Emmy Award for Best Short Documentary. POV Shorts have screened at the Sundance, SXSW, Tribeca, Hot Docs, DOC NYC, True/False film festivals, among others.

Launched in 2018, POV Shorts sources films through a variety of channels, particularly its open call for entries page (cfe.pov.org). POV Shorts has almost 40 titles in its catalog. In addition, the strand works with major short-form digital distributors such as Field of Vision and has worked with others including The New York Times Op-Docs and Condé Nast's The New Yorker.

EPISODE 3: Familial Healing— Two windows into what it means to be a survivor.
Broadcast Date: Tomorrow: Monday, November 29, 2021

I'm Free, Now You Are Free, dir. Ash Goa Hua
A story about the reunion and repair between Mike Africa Jr and his mother Debbie Africa—a formerly incarcerated political prisoner of the MOVE9.

Seahorse, dir. Nele Dehnenkamp
NOMINEE – IDA Documentary Awards
Against the backdrop of a community pool, a young Yezidi girl wrestles quietly with her traumatic memories of the Mediterranean Sea.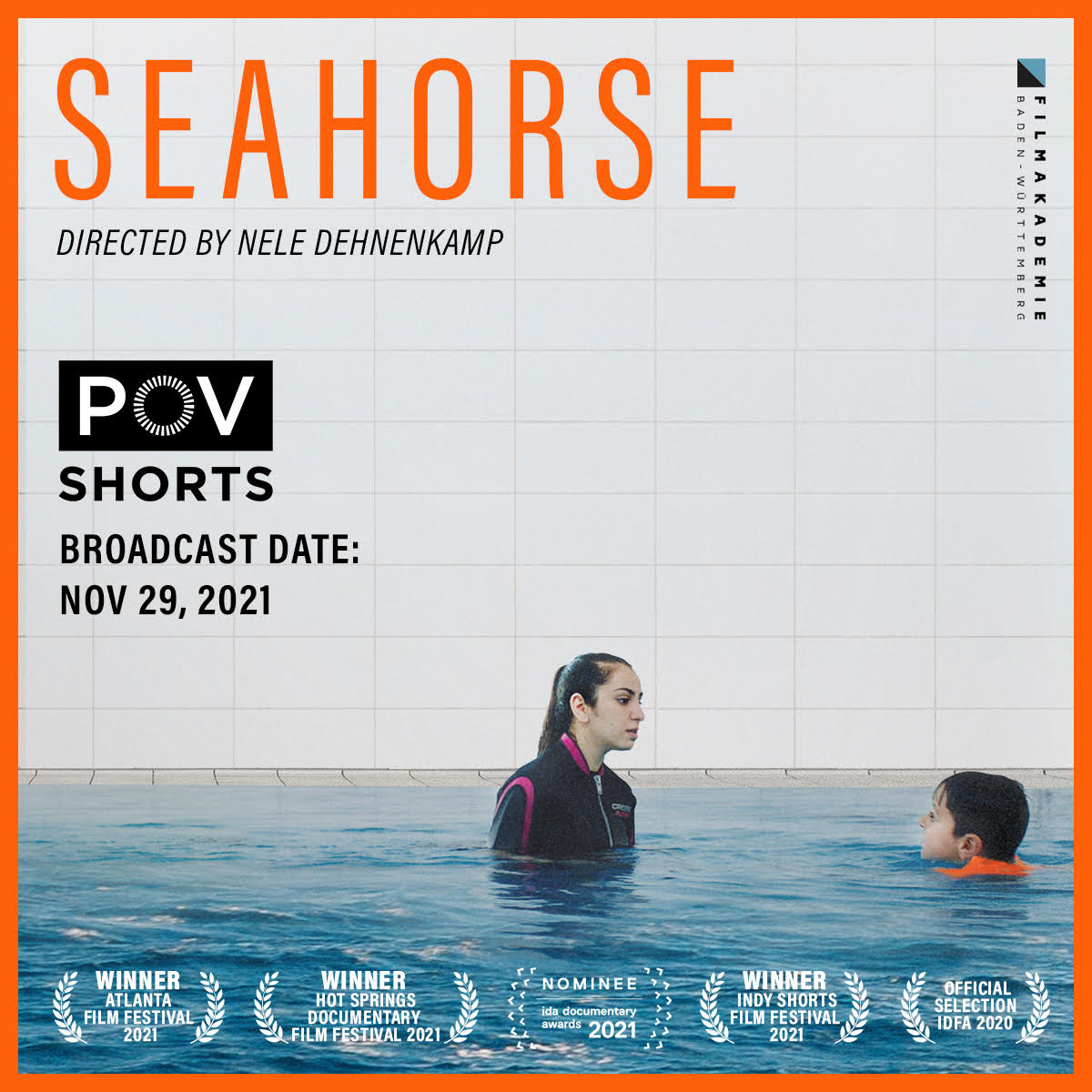 EPISODE 4: On Caregiving and Grace — Stories of courageous empathy in the face of loss
Broadcast Date: Next Monday, December 6, 2021

Águilas, dir. Kristy Guevara-Flanagan and Maite Zubiaurre
NOMINEE – IDA Documentary Awards
NOMINEE – Cinema Eye Honors
DOC NYC Short List: Shorts
Along the scorching southern border in Arizona, only an estimated one out of every five missing migrants is ever found. Águilas is the story of one group of searchers–the Águilas del Desierto–who volunteer monthly to recover the missing.

The Hairdresser, dir. Lorraine Price
In this short documentary, Kathleen reflects on her experience as a hairdresser while we bear witness to her unusual work.

EPISODE 5: Becoming Myself: Two conversations on identity and connection — selections from the POV Spark/NFB series, Otherly.
Broadcast Date: December 13, 2021

Integrate.Me, dir. Tristan Angieri
This short follows Tristan, a young adult who grew up queer, trans, and traumatized. They took a chance on an experimental therapy, finding their authentic place.

Elaine is Almost, dir. Em Yue
Explore the unconditional love between siblings as one sister interviews another on the eves of her 14th and 15th birthdays.

EPISODE 6: Le Frère: A story of familial sacrifice and the bonds of brotherhood.
Broadcast Date: Monday, December 27, 2021

Le Frère, dir. Jérémie Battaglia
Living with an illness that is causing him to lose the use of his body, Kaïs is awoken every morning by a different member of his family. Though paralyzed, he dreams he is the hero of his favorite manga, along with his brothers: Fehd, the bodybuilder and Zaid, the ninja.

EPISODE 7: Team Meryland: Meet Meryland, a 12 year old boxer with Olympic dreams.
Broadcast Date: Monday, January 24, 2022

Team Meryland, dir. Gabriel Gaurano
In the projects of Watts, Meryland Gonzales, a twelve-year-old female boxer trains to be crowned the 2019 Junior Olympics champion. Meanwhile, her immigrant parents work tirelessly to give their child a shot at achieving her dreams.

We would like to thank Adam J. Segal of The 2050 Group – Publicity for the press release.