April
23
The Friends Open Mind Sneak Preview, "Gratitude Revealed"
TUESDAY, MAY 10
7:00PM – 9:00PM PT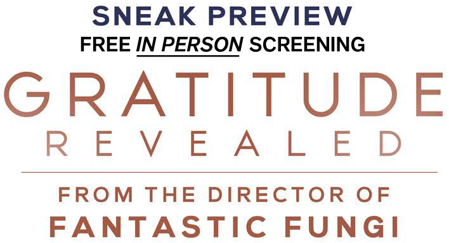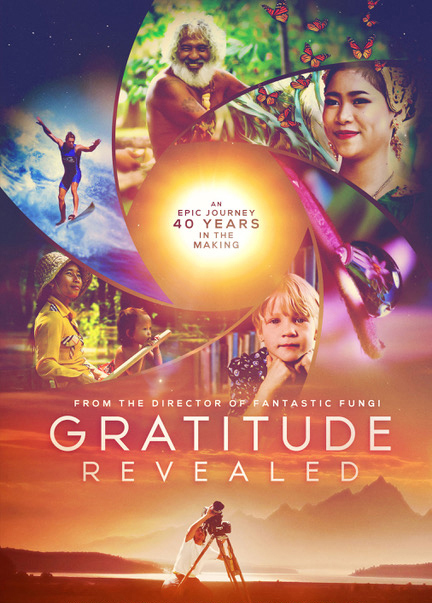 https://host.nxt.blackbaud.com/registration-form/?formId=3061811b-ec0c-4728-b9c2-e184bdb18fa1&envId=p-zCrdL4cOz0CZBvCOF9r06Q&bbeml=tp-zCrdL4cOz0CZBvCOF9r06Q.j9jUKog4ktk2udz27h35xXg.rMI-wbysNk06azoPUrupukQ.l_0ukSf6m-kWfv8qQAfVG1wUCLA's Friends of the Semel Institute for Neuroscience Human Behavior and the Resnick Neuropsychiatric Board of Advisors in collaboration with the Jane and Terry Semel UCLA Healthy Campus Initiative, is proud to present an in-person SNEAK PREVIEW of GRATITUDE REVEALED, the new feature film from award-winning cinematographer, director, and producer, Louie Schwartzberg. In a world reeling from pandemic and succumbing to hatred and fear, Gratitude Revealed helps us discover the good, opening our eyes to the gifts that bless us each and every day. Directed by Louie Schwartzberg, Gratitude Revealed takes us on a journey forty years in the making. We uncover the many facets of gratitude, and see their practical application in the everyday lives of Louie's subjects. A rug weaver teaches us mindfulness, an aerobatic pilot conveys focus, and a jazz musician's backyard barbecue illustrates connection. An eclectic collection of thought leaders and personalities, such as Norman Lear, Luisah Teish, and Alex Grey, guide us through this transformational experience, unearthing a fresh, positive, perspective on life, creating a communal cinematic event unlike anything we've ever seen. Louie Schwartzberg has spent his notable career providing breathtaking imagery using his time-lapse, high-speed, and macro cinematography techniques. He is a visual artist who breaks barriers, connects with audiences, and tells stories that celebrate life and reveal the mysteries and wisdom of nature, people, and places. His theatrical releases include the 3D IMAX film Mysteries of the Unseen World with National Geographic, narrated by Forest Whitaker; Wings of Life for Disneynature, narrated by Meryl Streep, and Americas Heart and Soul for Walt Disney Studios. Louie has also directed the Soarin' Around the World; the most popular motion simulator ride film now playing at Disney Theme Parks globally. Louie has also directed 3 seasons of Moving Art, which are now streaming on Netflix. The series has obtained great reviews from both critics and audience members alike. Also featured on Netflix, is Fantastic Fungi, narrated by Brie Larson. The film opened in local theaters throughout the US and rated 100% on Rotten Tomatoes. Schwartzberg's Visual Healing is an offering of immersive nature films that seamlessly bring nature and music together to deliver positive physical, emotional, and psychological benefits in healthcare and hospitality. The Visual Healing program is used to transform spaces into life-like natural environments. Following the screening, Mr. Schwartzberg will be joined in discussion by: Robert M. Bilder, PhD, ABPP-CN, Michael E. Tennenbaum Family Distinguished Professor of Psychiatry & Biobehavioral Sciences and Psychology; Chief, Division of Psychology; UCLA David Geffen School of Medicine; Jane & Terry Semel Institute for Neuroscience at UCLA; and Stewart & Lynda Resnick Neuropsychiatric Hospital at UCLA. Dr. Bilder has been involved over the last decade in the leadership of the Semel Healthy Campus Initiative, and current is the co-lead of the Mind Well Pod, which aims to enhance psychological well-being among UCLA students, staff and faculty through both curricular and extracurricular programming. This work has led to a new UCLA minor in Brain and Behavioral Health, the annual UCLA Eudaimonia Award, and multiple other programs that support our Mindful Awareness Research Center, the Sleep Well initiative, and collaborations with Student Affairs to enable new development of applications that connect students to resources for mental health and well-being. Wendelin Slusser, MD, Associate Vice Provost for the Semel Healthy Campus Initiative Center at UCLA, Clinical Professor of Pediatrics in the UCLA Schools of Medicine and Public Health, and Co-Founder and Academic Director of the UCLA Fit for Healthy Weight Program. Dr. Slusser currently leads the Semel Healthy Campus Initiative (HCI) Center at UCLA and is building a culture of health for the over 85,000 UCLA students, staff and faculty who learn, research and work at UCLA. Since Semel HCI's inception, 10 years ago, she has inspired and helped build the University of California's (UC) ten campus wide Global Food Initiative, the UC's 10 campus wide Health Campus Network and the UCLA Food Studies Institute. James Bridges Theater, Melnitz Hall
UCLA School of Theater, Film and Television
235 Charles E. Young Dr. N. Los Angeles, CA 90095Parking Structure 3 (see map)
Directions and Parking ​From Hilgard Ave. enter the east side of campus at Wyton Dr.Make and immediate right turn onto Charles E. Young Dr. East and signs will direct you to Parking Structure 3From the ground level of Structure 3, enter the underpass (or from the street level cross Charles E. Young Dr. North and proceed down steps) and walk straight alongside Melnitz and Macgowan Halls.Turn left at the plaza and proceed to the courtyard of theaters.To watch videos of our past Open Mind programs, please visit www.friendsofnpi.org/open-mind-videos or our YouTube Channel.