September
26
AVAILABLE NOW: A24's Pearl (Original Motion Picture Soundtrack) by Tyler Bates & Timothy Williams
A24 MUSIC RELEASES
PEARL
ORIGINAL MOTION PICTURE SOUNDTRACK
WITH MUSIC BY
TYLER BATES & TIMOTHY WILLIAMS
ON MAJOR DIGITAL PLATFORMS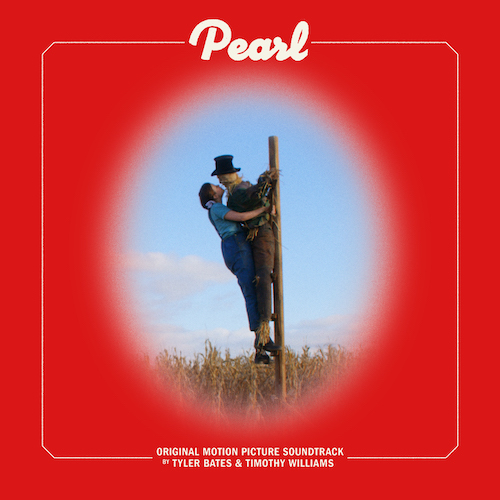 Los Angeles, CA) – A24 Music is excited to announce the release of the Pearl Original Motion Picture Soundtrack with music by Tyler Bates & Timothy Williams, listen here. The 19-track album is available now, and on major digital platforms.
With only six weeks to assemble a 68-person orchestra, Bates brought in frequent collaborator Timothy Williams, who worked with the composer on Guardians of the Galaxy, to help him audition musicians, build the orchestra, rehearse over four days in Nashville, and record the score.
"In the style of mid-century melodramas," says West, "Tyler Bates fashioned a sweeping, shrieking, strings-based score that lets the viewer know from the opening credits that Pearl will not be a subdued or quiet film. I said to him, 'let's do a romantic, melodramatic, old-school score for this movie.'"
He continues, "This wasn't the first time I've used live instruments on a movie—but it was the first time I had a full orchestra. It was awesome. Tyler and Tim really hit it out of the park. The score is very much one of the film's central characters, and that was important."
"Ti expressed the musical approach to this film with us before filming," says Bates & Williams. "We knew that the music would be based in an "Old Hollywood" approach, which stylistically is something we both love to do. This was a rare opportunity to write a lyrical score where the main theme permeates the music throughout the myriad emotional and psychological dynamics from beginning to end."
ABOUT THE FILM
Filmmaker Ti West returns with another chapter from the twisted world of X, in this astonishing follow-up to the year's most acclaimed horror film. Trapped on her family's isolated farm, Pearl must tend to her ailing father under the bitter and overbearing watch of her devout mother. Lusting for a glamorous life like she's seen in the movies, Pearl finds her ambitions, temptations, and repressions all colliding in this stunning, technicolor-inspired origin story of X's iconic villain.
Pearl had its world premiere at the Venice International Film Festival, followed by its North American premiere at the Toronto International Film Festival.
In a teaser that debuted at the end of the TIFF screening on September 12, it was revealed that A24 has greenlit MaXXXine, the third film of the Xhorror franchise. MaXXXine is written and directed by Ti West with Mia Goth reprising one of her two roles in X.
Pearl is showing in theaters now across the US.
Pearl (Original Motion Picture Soundtrack)
Tracklisting –
Pearl Main Titles (2:23)
One Day (3:16)
Go Fetch Your Father (3:25)
Ride Home (2:32)
Dancing With Scarecrows (2:29)
Papa (2:41)
Bless Us, Oh Lord (3:13)
The Projectionist (3:06)
The Arts In Europe (2:29)
Alligator Egg (2:08)
The Whole World Is Gonna Know My Name (3:18)
What About Your Dog? (3:38)
The Red Dress (2:13)
Hot-House Rag (1:39)
We're Looking For Something Different (2:18)
I Should Probably Get Going (2:08)
A Bicycle And An Axe (1:46)
The Tableau (2:24)
I'm So Happy You're Home (2:46)
ABOUT TYLER BATES
Tyler Bates regularly transitions from scoring some of the world's biggest film and television franchises, such as Guardians of the Galaxy and John Wick, to rocking massive audiences in the world of rock music, and back to the studio again writing and producing records with artists like HEALTH, Bush, Marilyn Manson, In This Moment, and Starcrawler, to name a few.
In 2004, he created the menacing audio backdrop for the popular Zack Snyder reboot of Dawn of the Dead, beginning a string of Box-Office number ones, followed by his soundtrack for the Snyder's 300, Watchmen and Suckerpunch. His oeuvre expanded to include films like Atomic Blonde, The Devil's Rejects, The Day the Earth Stood Still, William Friedkin's Killer Joe, and TV Shows like Californication, Punisher, The Purge, Kingdom, Salem, The Exorcist and more.
More recently, Bates scored the blockbuster Fast & Furious Presents: Hobbs and Shaw, Deadpool 2, Jamie Foxx's Day Shift, Ti' West's 2022 releases Xand Pearl, The Spy Who Dumped Me, plus Genndy Tartakovsky's acclaimed animated series' Samurai Jack and Primal on Adult Swim. After scoring Cirque du Soleil's R.U.N, Bates embarked on the 2022 world tour in support of Jerry Cantrell's latest album Brighten, which Bates co-produced. With more new projects on the horizon, Tyler Bates will undoubtedly continue to redefine what a composer is.
ABOUT TIMOTHY WILLIAMS
Timothy Williams is a multi-award-winning composer best known for his work on Pearl, Finding You, Brightburn, and Get Out!
Williams' films includes A24's Pearl, co-scored with Tyler Bates, Gravitas' The Swearing Jar, Roadside Attractions' Finding You, Screen Gems' Brightburn, directed by David Yarovesky, We Summon The Darkness, directed by Marc Meyers, which won best score award at ScreamfestLA; Wild Horses, directed by Robert Duvall; I.T., directed by John Moore, and Red Sky, for which Tim Williams was nominated Best Composer by Motion Picture Sound Editors and best score at the Hollywood Music in Media Awards.
Williams has written additional music for the Academy Award® and Golden Globe® winner Get Out!, Guardians of the Galaxy Vol. 1 and Vol. 2, Hobbs and Shaw, Deadpool 2, 300, Watchmen, Super, Sucker Punch, and The Spy Who Dumped Me.
Television work includes co-scoring AMC/Shudder Creepshow with Tyler Bates, Disney Junior's Piney, the Fox pilot Richard Lovely, and additional music on Fox's The Exorcist (S2), ABC's Missing and Comedy Network's Sym-Bionic Titan.
A graduate of the National Film and Television School, Williams has received two Motion Picture SE Golden Reel Award nominations (Red Sky), four Thea Award wins, 10 ASCAP Plus Awards and won best score at the 24FPS Festival (Butterfly Circus), best score at ScreamfestLA 2019 (We Summon The Darkness) and best soundtrack nomination at the HMMA Awards (Red Sky).
Tim has had multiple soundtracks released by Milan Records, Lakeshore Records, Varèse Sarabande and MovieScore Media.
We would like to thank Kyrie Hood, White Bear PR for the press release.