December
10
IRON KINGDOM Shares Part 2 of Behind The Scenes Making of Video For New Album "The Blood of Creation"
New Album "The Blood Of Creation" Out Now!
L-R: Chris Osterman (Lead Vocals / Lead Guitar), Leighton Holmes (Bass Guitar), Megan Merrick (Lead Guitar), Max Friesen (Drums) Photo Credit – Caitlin Delaplace​ Canada's Iron Kingdom recently unleashed its fifth studio album "The Blood of Creation" this past November. Once again it was a DIY approach by the band, self-producing the record with vocalist/guitarist Chris Osterman doing the engineering with some help from the band and some friends (Dan Yakimow, Jeff Black) along with mixing by Andy Boldt and mastering done by Greg Reely.Today, the band is giving their next glimpse into the making of the full-length with the second part of their behind-the-scenes making-of documentary."With the second part of our 'Making Of' documentary, we wanted to delve deeper into 'The Blood Of Creation'. The band explains the meaning and stories behind each track on the album, the gear we used as well as going through some stories from behind the scenes. The documentary shares some never before seen footage from the studio as well as some specially recorded interviews with each band member to share their experience of our latest album! We wanted to make the extra documentary video as a very special thank you to our die-hard fans. We can't thank you all enough for all the support we've received over the past 11 years as an independent act and we truly hope you all enjoy watching! Thank you for believing in us and for listening to our art!" adds Chris Osterman.The Making Of 'The Blood Of Creation' Pt. 2 can be viewed at https://youtu.be/i11YWsaIPtw​and Pt. 1 is available at https://youtu.be/TSrv44SXQ-A​Iron Kingdom's fifth full-length "The Blood Of Creation" contains eight impressive tracks running over three-quarters of an hour of classic heavy metal, windswept solos, memorable riffs, and piercing vocals conveying powerful stories. This new album saw a lot more musical content coming from lead guitarist Megan Merrick, and having Max Friesen on drums saw lots more ideas from yet another angle. Iron Kingdom continues to rework and evolve its sound and layers of professionalism can be heard throughout. This album is quite dark topically, the lyrics speak of war, fear, sacrifice, and pain, and the music although very classical and explorative also has some very evil moments throughout. The band, like so many others, was in a dark place due to the pandemic and the music reflects some of those emotions.In the beginning, Iron Kingdom set out to create a sound paying homage to how things used to be in the 70s and 80s. They put on a big and energetic show, a show that brings you back to 1984, but in all the best ways. They are recommended for fans of Helloween, Judas Priest, and Queensrÿche.The album "The Blood Of Creation" is available at the following links: ​Iron-kingdom.com/shop/ (CD, Vinyl, Cassette)​, ​Iron-kingdom.bandcamp.com, Apple Music, Spotify​Album Stream – https://youtu.be/4pk7QzM4gBo​Music Video – Sheathe The Sword – https://youtu.be/gGI3PDyblUsMusic Video – Queen of The Crystal Throne – https://youtu.be/YyhEutgL9gI​Fun Fact: 'Queen Of The Crystal Throne' played on City TV for Hockey Night In Canada (Montreal Vs Dallas) – Sat Oct 22, 2022.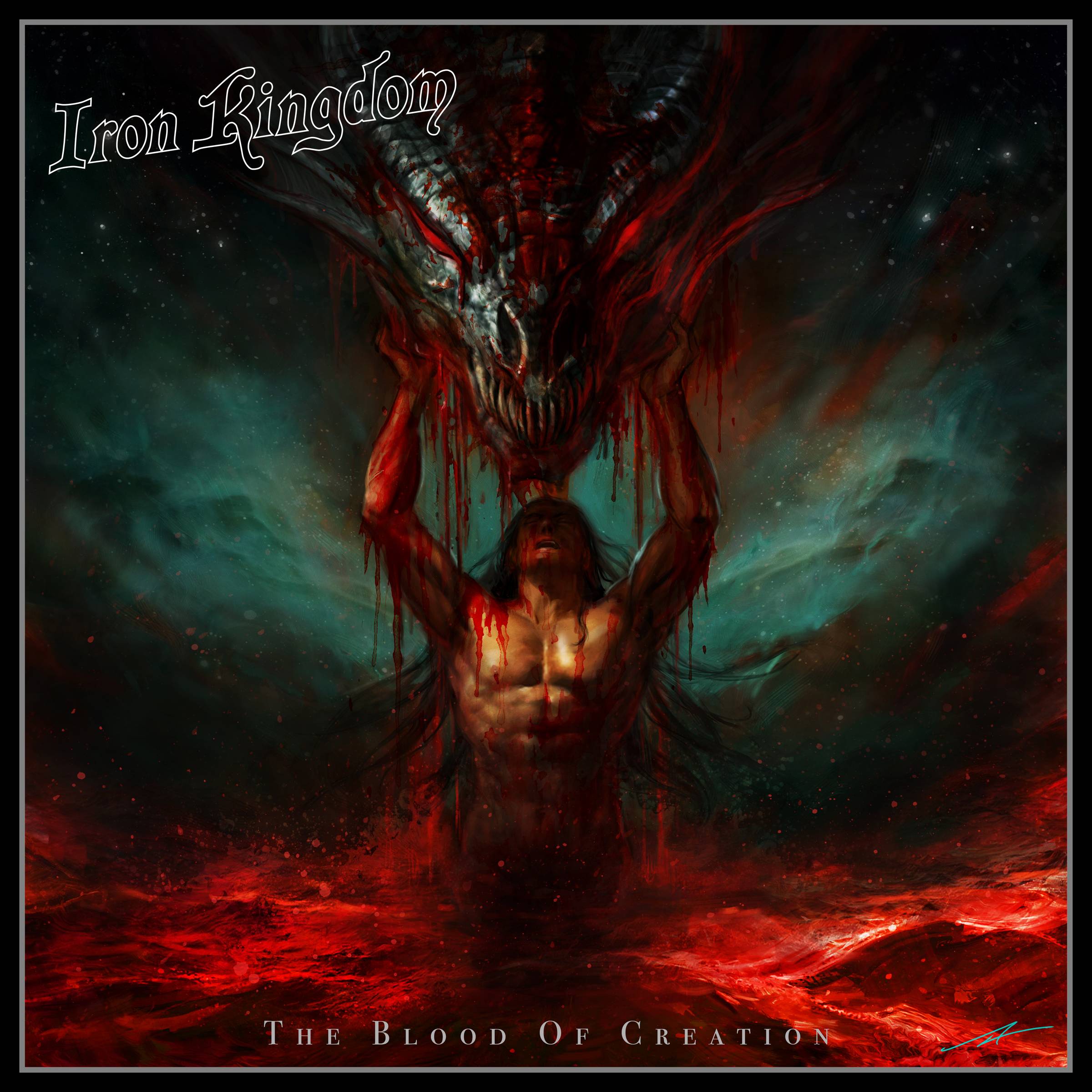 Track Listing:​ 1. Tides Of Desolation – 1:13 2. Sheathe The Sword – 5:25 3. Queen Of The Crystal Throne – 4:58 4. Hunter And Prey – 5:25 5. Witching Hour – 5:44 6. In The Grip Of Nightmares – 5:23 7. Primordial – 1:40 8. The Blood Of Creation – 13:38 Total Running Length: 43:29For more info: ​https://www.iron-kingdom.com​ ​https://www.facebook.com/ironkingdom​ ​https://www.instagram.com/iron_kingdom​ ​https://twitter.com/iron_kingdom​- 30 –"Loads of riffs and melodies some excellent lead breaks and pounding rhythms. This is bonafide, foot on the monitor, fist pumping, horn throwing real metal. I have never heard Iron Kingdom before but on the strength of this I will be obtaining the back catalogue very soon." – My Global Mind (The Blood of Creation)"With The Blood Of Creation, Iron Kingdom have forged a masterpiece that brings tears of joy to the eyes of every traditional metalhead. There is only high-quality material and everyone is encouraged to include this album in their choice of this year's Top10. " – Soundmagnet​ ​ ​"Iron Kingdom brings another solid heavy metal album with the fifth album 'The Blood of Creation'. Slightly progressive, but especially heavy… Give the band a listen, you will be surprised!" – Metal Experience​ ​ ​"This is a solid album of heavy metal delivered in the style that is true to the cause and therefore, what the listener gets here with 'The Blood of Creation', is an album which mounts its steeds and charges forward in a cavalry strike as galloping riffage and rhythms never give the listener the chance to let up with tracks such as 'Queen of the Crystal Throne', 'In the Grip of Nightmares' and 'Witching Hour' having some very impressive twin guitar lines. This would impress any fan of Iron Maiden, Riot V and Iced Earth, but also sticks within the remit of trad metal with bands such as Katana, Skelator and Toledo Steel." – Metal Digest​ ​ ​"Anyone who likes beautiful and playful melodies, extensive guitar solos, detailed arrangements and double lead guitars will be well served with "The Blood Of Creation"." – PowerMetal.de​ ​ ​"Iron Kingdom created an iron-bound, battle-hardened piece of traditional Heavy Metal that truly made me want to turn the clock back to those long-gone days of glory. Times when metal was just that, the pure joy of a style that was still new, exciting, and powerful. Or to let the band speak in their own words, they "…decided to play metal the way it used to be played in the 70s and 80s." Well, mission fucking accomplished. Well done, guys." – Rock Music Raider​ ​ — We would like to thank ASHER MEDIA RELATIONS for the press release.