May
17
You Are Not Alone Tuesday, May 30,2023 5:00 PM – 6:00 PM PDT
Tuesday, May 30
5:00 PM – 6:00 PM PDT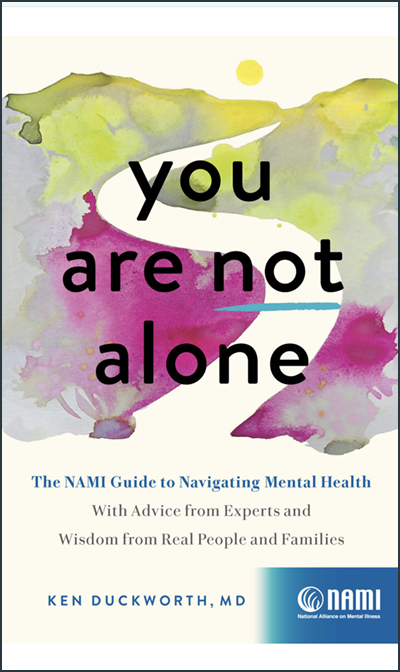 Registration is required for this free live private Zoom event.
https://host.nxt.blackbaud.com/registration-form/?formId=1e489de7-595c-4e6b-9e91-ceb73153295d&envId=p-zCrdL4cOz0CZBvCOF9r06Q&bbeml=tp-zCrdL4cOz0CZBvCOF9r06Q.jvZRtnJgSvUmH2Yj2fOsCKw.rLASxnlA7YkK3kIdl8gmXFw.lis12zRh15UWcYt6umeQTXg
Written with authority and compassion, You are Not Alone by Dr. Ken Duckworth, Chief Medical Officer of the National Alliance on Mental Illness (NAMI) is the essential resource for individuals and families seeking expert guidance on diagnosis, treatment, and recovery, featuring inspiring, true stories from real people in their own words.Millions of people in the United States are affected by mental illness every year. The Covid-19 pandemic not only caused new or aggravated symptoms in people, but further exposed the shortcomings of the American mental health system. Despite advances in telehealth, the healthcare industry remains chaotic, underfunded, and often inaccessible, and many people are asking themselves the same questions: What does it mean when different doctors give me different diagnoses? What if my insurance company won't cover my treatment? Will I have to be on medication my whole life? Will I ever feel better? Families and friends are often left in the dark about how best to help their loved ones, from dealing with financial and logistical issues, to handling the emotional challenges of loving someone who is suffering.You Are Not Alone is here to offer help. With the wisdom of a psychiatrist and the vulnerability of a peer, Dr. Duckworth offers this comprehensive guide that centers on the poignant lived experiences of over 125 individuals from across the country whose first-person stories illustrate the diversity of mental health journeys. This book also provides: Practical guidance on dealing with a vast array of mental health conditions and navigating careResearch-based evidence on what treatments and approaches workInsight and advice from renowned clinical experts and practitionersThis singular resource—the first book from the National Alliance on Mental Illness, America's largest grassroots organization helping people with mental illness and their families build better lives – is a powerful reminder that help is here, and we are not alone. Ken Duckworth, MD, is the Chief Medical Officer of NAMI  and has been the medical director since 2003. He is also Assistant Professor of Psychiatry at Harvard Medical School, and has received numerous awards for his work to advance our knowledge and treatment of mental illness. To watch videos of our past Open Mindprograms,
please visit  YouTube Channel.